Secured™ Takes Aim To Support Veterans As "Top Gun" Sponsor of BCV's Annual Helicopter Hog Hunt Weekend
As a Service-Disabled Veteran-Owned Small Business (SDVOSB), part of Secured's™ corporate mission is our commitment to supporting veterans and their families with their transition back into civilian life. We were proud to sponsor this year's Big Country Veterans' (BCV) Helicopter Hog Hunt Weekend, as well as honor a few of our own vets.
The BCV's Helicopter Hog Hunt Weekend is an annual event that is held at the Circle Bar Ranch in Truscott, Texas. This event is designed to give vets a chance to get out and enjoy the great outdoors and connect with other vets while also helping to control the feral hog population in the area.
For those who are not familiar with the feral hog problem in Texas, it is a big issue. Feral hogs are not native to Texas, but they have been introduced and have become a major problem. These hogs are known for their destructive behavior, which includes damaging crops and natural habitats, as well as carrying diseases that can infect both humans and livestock.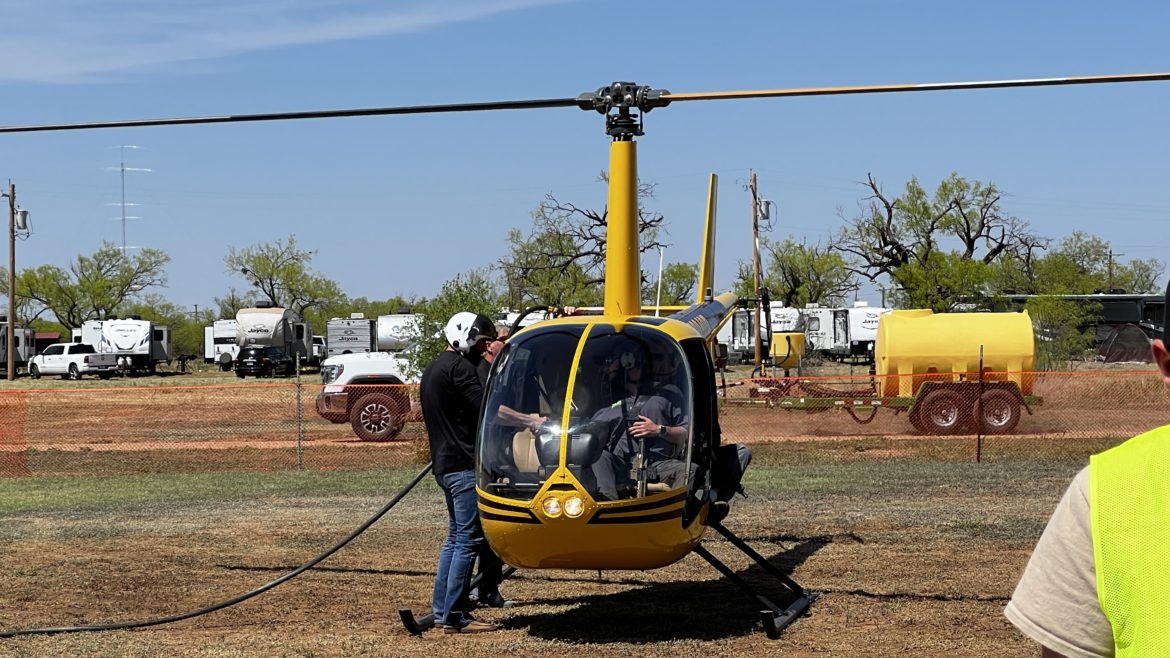 This year's event honored 18 VIP veterans and featured guest speakers Master Sergeant Earl D. Plumlee and Sergeant First Class Gary L. Littrell. Throughout the weekend, attendees were treated to live music provided by country artist Miller Campbell (who certainly held her own in front of this rowdy crew), incredible native-Texas cuisine provided by the talented chefs from Redneck Culinary Academy, a shooting range including a 5-stand shotgun competition, axe throwing, and even a mobile museum of military history. 
However, the main event of the weekend is the helicopter hog hunt. Attendees were given the opportunity to ride in a helicopter and shoot at feral hogs from the air. This was a unique and exciting experience that is not available to the general public.
Before the hunt began, there was a safety briefing where everyone was reminded of the rules and regulations for the hunt. Safety is a top priority during this event, and the BCV organizers took great care to ensure that everyone was aware of the risks and how to avoid them.
Once the safety briefing was over, all five helicopters in the group took off and the hunt descended on over 200,000 acres of dusty west Texas land. The veterans were armed with semi-automatic AR-15 rifles and took aim as the skilled pilots tracked down the sounders of feral swine below. Hunting hogs from the air was not an easy task, as the hogs were fast and unpredictable, but the veterans were well-trained and skilled.
Each hunt continued for 30-45 minutes, and the veterans had the opportunity to shoot at as many hogs as they could. The goal of the hunt was not just to have fun and enjoy the experience, but also to help control the feral hog population in the area. By the end of the weekend, over 1200 wild pigs were eradicated from the area. Despite being the second largest amount in the BCV event's history, this is still just a drop in the bucket as Texas is plagued by an estimated two-million feral hogs, about 50% of all feral hogs in the U.S.
Each night, after the hunt was over and dinner had been served, attendees were invited back to the Circle Bar Ranch's Main Lodge for a veteran cocktail hour hosted by Horse Soldier Bourbon. As you may expect from this lively group, the day was celebrated with libations, cigars, friendly games of poker and eight-ball pool, or simple quiet conversations around the outdoor firepits.
Overall, the Big Country Veterans' Helicopter Hog Hunt Weekend is an amazing event that provides veterans with a unique and exciting experience while also helping the local landowners of the area. It is a great way for veterans to connect with nature but, more importantly, it reminds them that they have a "family" and support network who are incredibly appreciative of their sacrifice. This is the type of event that falls right in line with Secured's mission.
As such, Gabe and I wanted to do more than just donate money. We wanted to honor a couple veterans from our corporate family, so we donated VIP passes to our Cybersecurity Jr. Engineer Alex Brooke, who is a Navy vet, and long-time supporter and Marine vet Chris Maiwald.
"Attending BCV's Annual Veterans Helicopter Weekend with Secured™ was an amazing experience," said Alex. "As an employee, it was great to see Secured's™ sponsorship bring veterans together to enjoy a weekend at a Texan ranch. As a Navy veteran, I connected with fellow veterans and heard their stories of military service and transitioning out of the military. These stories were humbling and inspiring to hear. And of course, flying in a helicopter over Texan ranchland in search of wild hogs was an unforgettable experience."
Chris had similar sentiments towards the event.
"Being a native Texan, born in Amarillo and living all over the world as an Air Force brat, it was exhilarating to be able to spend time on the Circle Bar Ranch," said Chris. "As a Marine veteran, it was an honor to spend time with veterans from across the United States. The minute you stepped on the premise, you could feel the comradery between all armed forces. This BCV event was my first time for both being in a helicopter and shooting pigs from one. It was truly a memorable experience that I will never forget. I cannot begin to tell the guys from Secured™  how appreciative and honored I am to be a part of this event."
In conclusion, the BCV's Helicopter Hog Hunt Weekend was an amazing experience that brought together veterans from all over the country to enjoy the great outdoors, connect with each other, and help control the feral hog population in the area. Secured™ was honored to sponsor this event and show our support for our veterans and their families. Riding in a helicopter and shooting at feral hogs from the air was definitely a unique and exciting experience that attendees will never forget. We hope that the success of this event will continue to inspire others to support our veterans in their transition back into civilian life. We are committed to supporting veterans and their families, and we look forward to participating in future events that promote camaraderie, adventure, and fun.